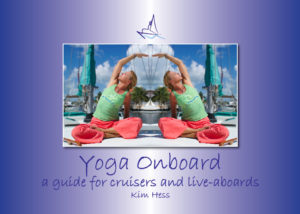 As cruisers and live aboards, it is very easy to find every excuse in the book NOT to move your body or train your mind. I heard over and over, "I live on a boat, I can't do yoga."  This book was created to take that excuse away.
Yoga Onboard is a practical guide that offers creative alternatives to adapting traditional yoga postures to a sailing vessel. Using various parts of the boat as props, Kim demonstrates how easy it is to create a yoga practice on whatever size boat you are on. The ideas presented can be applied to any circumstance or location allowing your practice to travel with you. Some of the benefits of a regular yoga practice include increased strength and flexibility, restored energy, and harmony between the body and mind. As your practice deepens you will find that applying the principles of your practice into your life becomes second nature.
And I am just an email away with questions you might have.